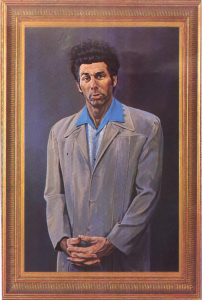 "He is a loathsome, offensive brute, and yet I can't look away."
The above quote is from one of my favorite Seinfeld episodes. A painting of Kramer is being looked at by two potential buyers when the man states: "He is a loathsome, offensive brute, and yet I can't look away."
They buy the picture.
Which brings us to today's topic.
Do you know that I've been called a brute. Actually being called a brute is tame compared to what I've been called on YouTube, Facebook and even face to face.
Why would anyone say negative stuff about me?
There is a really simple explanation and being the understanding, caring, compassionate person that is plugged into the human psyche the way I am I let negative comments roll off me like water on a duck's @$$.
Anyway, if you have negative thoughts about me, I would like to humbly ask you to suspend them for a minute and read on. If you think of me in favorable terms, I also ask you to read on.
This Sunday (December 7th) I'll be doing FREE pet photos with Santa.
I do it for the Humane Society & Shelter – SouthCoast. It's a great shelter with some very dedicated people. I give 100% of the money raised to the shelter.
You may be confused because I said the photos are free. I do not charge any amount for the photos but I do ask for donations. You can give a nickel or you can give $100 and if you had a rough year, take it for free.
Who said I'm an loathsome, offensive brute?
So I'd like to invite you to stop in with your best friend and get your picture taken.
What's that?
You live in Texas, Tasmania, Hong Kong, Scotland and can't make it. I know people all over the world read this blog and many of you would love to stop in but the ride here is pretty far.
SO……
…..I came up with an idea.
If you'd like to make a donation to the shelter I will give you my Fun Dog Tricks Course. You can make a donation of ANY size and I'll send you the course.
Once you make a donation send me an email and I'll send you the course.
I would really appreciate your help with this and any donation will go a long way to help a lot of dogs that need it.
Thanks again!
Eric