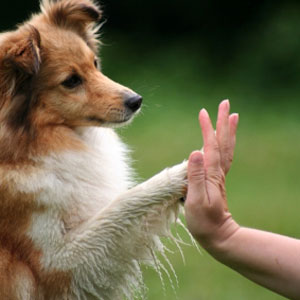 Russians can be very straightforward with advice.
A few years back I had the chance to listen to a Russian ex-special forces instructor. His name was Pavel Tastloine. Very interesting guy. During his talk he used a term called forced relaxation.
It was how he taught Russian Special Forces Spetsnaz stretching techniques.
He would have them tense their muscles and then relax.
I started using this term force relaxation and teach a different version for dogs. Forced relaxation will get your dog to calm down in any situation.
Most people dread bringing their dogs anywhere like a vets office or the groomers. When dogs are out of control it can be embarrassing. During my classes the first thing you'll learn is forced relaxation. It's a technique you can use anywhere at anytime to get complete control.
It takes a little practice but once your dog learns this, your days of struggling are over. You can be rest assured you'll always have control in every situation.
Best part, it does not require any certain type of collar, no treats and doesn't even require you to have crackerjack timing or awesome dog training skills.
Next Monday at 6:00 pm I'll be starting a class at Diamond in the Ruff Dog Daycare in Acushnet.
If you are interested I need to hear from you fast. Space is very limited. You can register by calling me at 774-310-6 or you can register online at
All the best!
Eric