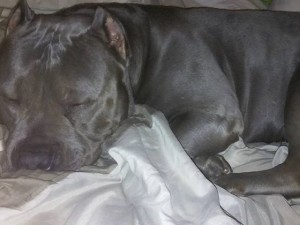 Imagine you're out for a walk with your dog.
Out of nowhere, a man runs up to your dog and wraps his arm around your dog and initially, you think he is punching your dog.
Then to your horror you realize that he is actually stabbing your dog.
This happened yesterday in Fall River, MA. Literally blocks from where I started my dog training business in 1995.
To say I was horrified would be an understatement.
Smokey is the three year old dog that was stabbed and is in critical condition and is fighting for his life now.
Maybe like me, after learning about Smokey you feel the urge to help.
There are significant medical expenses and there will be a great deal of aftercare needed.
So here is what I am proposing:
If you make any size donation to help Smokey (any size) I'll send you two (2) BIG THANK YOU GIFTS:
!. Good K9 Manners Course – if your dog jumps, barks, begs, steals or has any other pesky behavior problems you'd like to solve, this course is for you.
2. "Think Like A Dog Act Like A Human" ebook – this book is available on Amazon but you'll get it included with any donation you make.
Once you make a donation let me know and I'll send you the gifts along with a great big THANK YOU from me.
Here's where you can donate:
Thanks again!
Eric