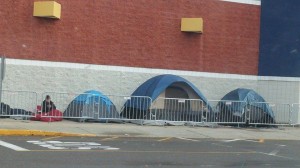 I've roughed it more than a few times in my life.
I like camping. I don't do it as much as I'd like, but sleeping in a tent on Thanksgiving in New England is definitely NOT my cup of tea.
Especially to just save a buck.
I was looking on Facebook yesterday and saw pictures of people sleeping in front of Target in tents to be first in line for the black Friday sales.
Crazy!
Anyway, everyone is looking for sales today but I am sure there is no one offering a deal as good as mine.
A few days ago I told you about joining the Dog Training Inner Circle for just $1.00!
Amazing, unbelievable, incredible and…..
…..you don't have to sleep in a tent to get it.
The Dog Training Inner Circle is like Facebook for dog lovers. You can friend people within the site, start groups, ask questions and connect with other dog lovers all over the planet.
You can get my help with training your dog to come when called, stop pulling on leash, end stealing food off the counters, no more jumping and much, much more.
If you're ready to walk in the tall grass with the big dogs, the Dog Training Inner Circle is where you want to be.
Here's where to go if you want IN:
Best,
Eric