Are You Struggling With Your Dog or Puppy?
Does your dog jump and knock everyone over?
Does your dog steal food off the counter and ruin your meals?
Does your dog drag you down the street making it impossible to walk?
Does your dog blow a gasket and embarrass you every time he sees another dog?
Have you ever had to chase your dog because she does not come when called?
Contact us immediately for a FREE Consultation by filling out the form on the right.
Behavior problems solved FAST! In some cases in just one session. Here are before and after videos of a Rottweiler we worked with. See more before and after results on our video page.
Free Consultation – Just Complete And Submit
*The consultation is absolutely free. There is no cost, no risk and no obligation. Service area in MA includes Swansea, Somerset, Fall River, Westport, Dartmouth, New Bedford, Fairhaven, Acushnet, Mattapoisett, Marion, Wareham, Rochester and Freetown. Service area in RI includes Tiverton, Little Compton, Aquidneck Island and the East Bay.
---
Behavior Problems Solved
Are you dealing with behavior problems you wish would go away? Your dog can be good at times but certain behaviors frustrate you? Like jumping, stealing food, is uncontrollable on leash around dogs and people, steals underwear and other items, barks excessively, is growling or biting, or chewing? We can help you. End problem behavior today.
Dog Obedience Training
Imagine your dog off-leash and coming every time you call, walking your dog anywhere around any distraction. Imagine your dog calm and controlled wherever you go. You may think it's impossible but it isn't. Your dog can learn to respond to your commands wherever you go and we can help you. We offer group and private training classes.
Puppy Training
If you're at your wit's end with your puppy or if you're looking to get off to a great start, you can start training immediately! Our puppy classes will show you how to establish yourself as the leader, how to prevent problems from ever developing, help you achieve housetraining success, and teach your puppy obedience commands.
---
Eric Letendre's Dog Training School Can Help You Train Your Dog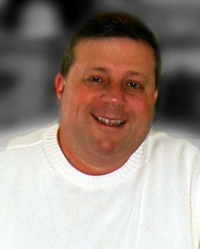 Since 1988, Eric Letendre has worked with and trained dogs from all angles. He is a former Fall River, Massachusetts Animal Control Officer, K-9 Supervisor, and has helped train dogs at most of the animal shelters in the area. Eric is the author of four dog training books (available on Amazon) and has experienced and worked with every breed and behavior problem imaginable.
Eric's popular YouTube channel has over 12 million views of its videos and he writes to thousands of dog owners all over the world through his popular weekly emails.
Knowing dog owners need fast and effective solutions, Eric has developed a training system anyone can follow. Based on a solid foundation of scientific training principles, it will train your dog to do more of the behaviors you want – sit, down, come, walk, etc. and STOP the behaviors you don't want – jumping, barking, chewing, etc. You can get a FREE no obligation, behavior consultation with Eric by filling out the form at the top of the page. You can also call Eric at 774-319-6351 to schedule a free consultation.
---
Eric Letendre's Newest Book – "The Deadly Dog Training Myth"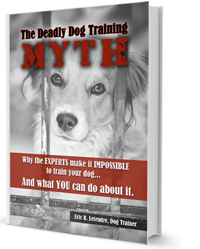 Eric Letendre is author of four books on dog training. His newest book, "The Deadly Dog Training Myth," is now available on Amazon.
In his new book, Eric describes how dog training has become one of the most confusing subjects for new dog owners. There is so much conflicting information, opinions, and theories dog owners often become frustrated and annoyed when trying to train their dogs.
"The Deadly Dog Training Myth" explains why the current state of dog training is actually dangerous for your dog and how to go about choosing the right dog trainer. The Deadly Dog Training Myth is available on Amazon.com.

Excellent resource for any dog owner – By Renee D.on May 7, 2017 | Format: Kindle Edition|Verified Purchase
This is an excellent book to help you train your dog. Any dog owner would find it helpful, as Eric addresses situations and problems that would be relevant to owners of puppies, such as housebreaking or crate training, as well as difficulties such as aggression, excessive barking, or not coming when called that might be problems for owners of older dogs. In the first part of the book, Eric carefully explains why using only positive rewards is not the best way to teach desired behaviors or to stop unwanted or dangerous behaviors. He then shows how a regime of positive rewards paired with negative consequences is the most effective and, indeed, the most humane way to train your dog.
I found this book and Eric Letendre's step-by-step training advice to be invaluable as I worked with my new puppy. At the end of the book, Eric also includes a list of additional resources such as websites and online videos for further help.

Excellent book on dog training and behavior – By Johanna W.on February 12, 2017 | Format: Paperback|Verified Purchase
Excellent book on dog training and behavior! I have a leash reactive dog that I have been working with and this book has been extremely helpful and informative for me, I recommend it to anyone with behavior problems or anyone who is just starting to train a new puppy. Eric has a wealth of knowledge about dogs, an intuitive understanding of their behavior, and a down to earth common sense approach to training. Most of all I loved the simple philosophy and methodology: positive reinforcement when you want the dog to learn something BUT negative correction when you don't want the dog to do something. It makes so much more sense to me than the complicated positive reinforcement ONLY methods that I keep coming across! that haven't worked for my dog. Thank you Eric Letendre for this helpful, much needed book!

This is by far one of the best dog training books I have read yet – By Ree Butleron June 5, 2017 | Format: Paperback
This is by far one of the best dog training books I have read yet. While the current trend in dog training seems very "positive" and forward thinking, these methods often end in the euthanasia of the when they fail and there is nothing positive about that. If you have lost faith on the dog training system or been failed by a positive only trainer this book is a must read. Yes, it does include actual advice on behavior, training and specific behavior issues as well as the basic info covering the current positive only trend in dog training today and how it fails you and your dog.