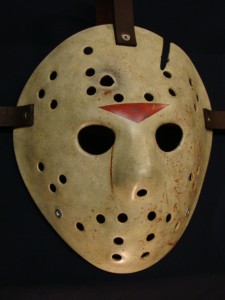 It's become a symbol of fear.
The image strikes panic in the hearts of millions.
One look and people shake in terror.
What is this image that I speak of?
I am talking about…..
……a hockey mask.
Before the movie "Friday The 13th" came out, was anyone afraid of a hockey mask?
Funny how associations work.
Pair a harmless item with some gruesome murders, a lot of blood, the right music and bingo – full fledged scarefest.
Anyway, tonight your dog may get nervous around the constant parade of ghouls, goblins and little "Jasons" knocking on your door.
The best thing to do is give your dog some exercise before the festivities start and then help your best friend hunker down for the night.
And if you're expecting a full on zombie attack, you'll want to take advantage of The Zombie Proof Dog Training Course that is still on SALE for HALF OFF because I am looking out for you and your dog.
Get it before it's too late:
Happy Halloween!
Eric