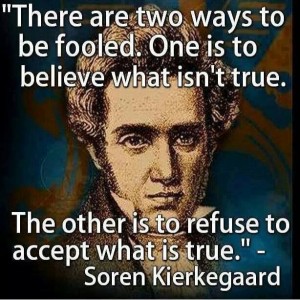 Was bouncing around Facebook yesterday and came across an interesting quote.
The quote was written by a guy that believes God comes to each individual mysteriously which may have led to his book, Fear and Trembling.
Anyway Danish philosopher, theologian, poet, social critic and religious author Soren Kierkegaard stated:
"There are two ways to be fooled: One is to believe what isn't true. The other is to refuse to accept what is true."
Which is great dog training advice because many people are led to believe what isn't true and often refuse to accept what is true.
Dogs should never be allowed on the furniture – not true.
Dogs should never go through a door before you – not true.
You should never play tug o war with your dog – not true.
Never feed your dog people food – not true.
I could add to that list for ten more pages but you get the point. The problem is when advice becomes a belief. Once the person believes that the advice is true and emotionally accepts it, it can become very difficult to get the person to change their mind.
Go find a vegan and tell them that eating meat can be healthy and get ready to duck if they are holding onto a stick.
Go tell someone who eats paleo that being a vegan is healthy and get ready for a long discussion on cavemen and our ancestors surviving and flourishing directly because of meat consumption.
Right now there is a HUGE movement of dog trainers that will tell you that you should never, under any circumstances use any type of negative consequence with your dog.
And as our old pal Kierkegaard says, they absolutely refuse to accept what is true, that at some point in your training to get the results you're looking for you'll have to use a negative consequence.
I've said it before and I'll say it again: You can't use positive reinforcement to STOP a behavior. Your training should absolutely be founded and established with positive reinforcement. You should spend the majority of your time reinforcing behavior with rewards.
BUT….when Junior decides to get out of control and steals the pork chops off the table, when he becomes Vince Wilfork and tackles your guests as they come into your house, when he decides to bite the leash and drag you down the street, applying a quick, effective, negative consequence can quickly clear up any confusion he may have had.
And that's the truth any way you'd like to slice it.
If you'd like to see how to do it head on over to the Dog Training Inner Circle because I just put up a new video on teaching this with examples.
The best part is that you can get for just $1.00. I know, it an amazing deal so here's where to go NEXT:
See you on the inside.
Best,
Eric